Whether it is by supporting a local organization, donating time and/or money, signing a petition, joining a rally or taking to the streets; you can take action in many ways, and you have the ability to change the world around you. You can make a difference!
Our motto is to put our money where our mouth is as often as we can, and to do something rather than just talk about it. So we either organize our own events or we support our partners' campaigns and petitions. We also join the crowd when needed.
Below are recent actions and events we organized and/or supported. We hope you will be positively inspired to join us and take action!
"60 Signers for the 60th Anniversary" Initiative
Founder of the MagkaSama Project, Max Dana has always been a staunch supporter of Human Rights. In 2008, the
Universal Declaration of Human Rights
turned 60 years old and to celebrate this event, Max created an artwork to be signed by 60 people from around the world.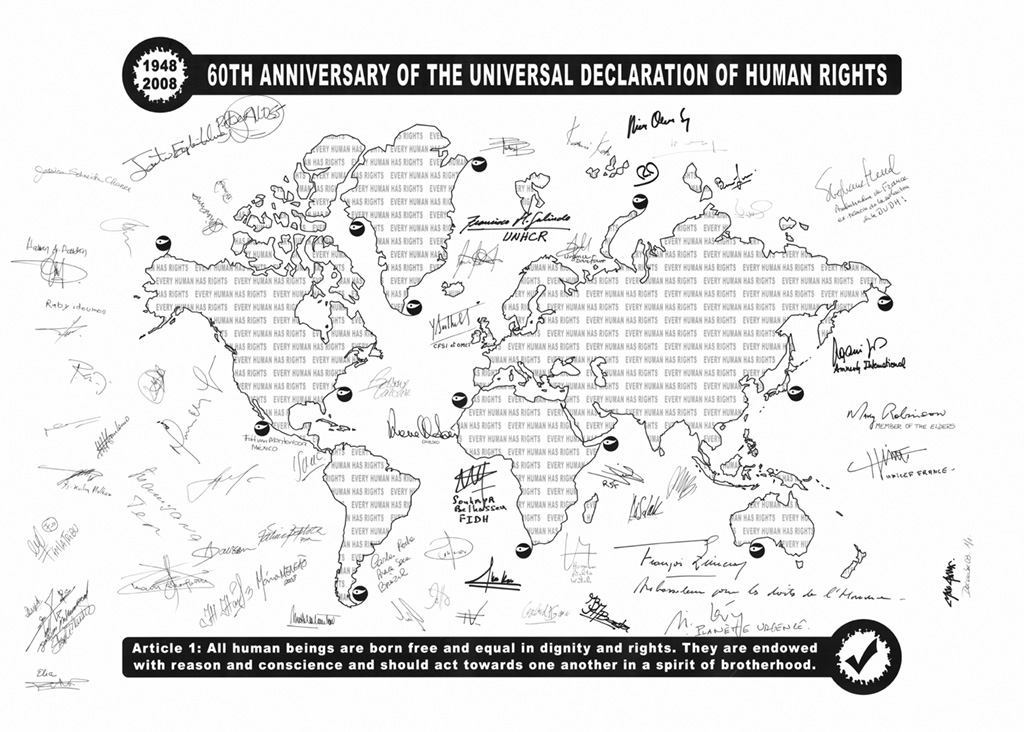 Max Dana
wanted to mark the
60th Anniversary of the Universal Declaration of Human Rights
in 2008, and launched the "
60 Signers for the 60th Anniversary" Initiative
to support the Every Human Has Rights Campaign by
The Elders / CIVICUS
. For several months, Max met with sixty people from the most important organizations in the world:
Amnesty International, UNICEF, UNHCR, Human Rights Watch, FIDH, Reporters without Borders, OMCT, UNESCO
,... With volunteers and individuals supporting organizations, as well as committed people (activists, doctors, human rights lawyers...). She also met with the winners of the
Internews
Every Human Has Rights Media Awards
. They all enthusiastically supported Max's initiative and signed the original artwork she created to honor the UDHR...
MORE ABOUT THE INITIATIVE
Awareness Raising, Campaigns and Petitions
We organize communication activities, develop, execute and support campaigns which aim to create awareness on topics such as Human Rights, environment, education, social issues... We contribute to initiatives and petitions to affect positive, equitable and sustainable change.
Kids Workshops (Sama Kids Day)
Youths are the pillars of social, economic and political developments, and they make up the largest population in history. Children, teenagers face many difficulties during a deeply challenging time of life. Our Kids workshops aim to help them gain self-confidence and develop empathy.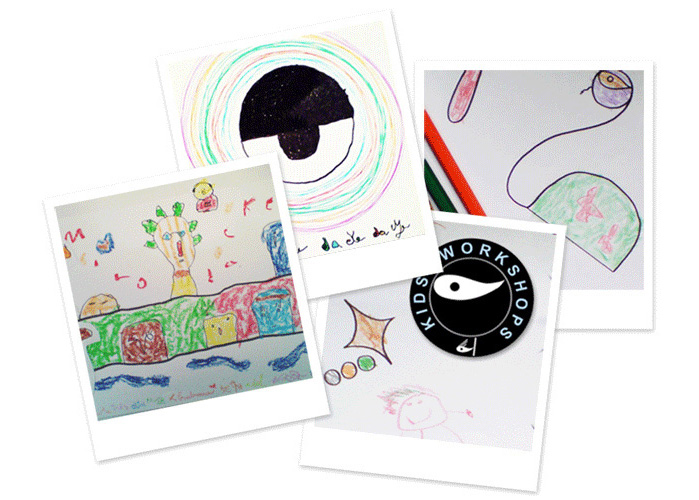 Sama Kids Day (also known as Kids Workshop) is a special Sama Day. Since 2006, Max Dana has been running her own kids workshops by bringing children and the arts together to encourage them to explore creativity and emotion through various art forms (painting, music, photography, art & craft, plays…). The main goal of these workshops is to create global awareness, to build empathy and global citizenry through arts education and discussion. Workshops focus on topics such as (cyber)bullying, poverty, environment to help them handle what they are facing and prevent it so they can learn to treat others with respect and compassion. Activities cover a wide range of subjects, allowing children to express and share their feelings, ideas and opinions, and enjoy time together. An inspiring moment to help them have some perspective for a better understanding of other cultures, to promote positive behavior and connect to the global community for successful living together.
Events, Screenings, Panel Discussions
We have arranged (public and private) screenings of films like
The Heart of Nuba
;
The Good Lie
;
The Man Who Mends Women: The Wrath of Hippocrates
;
Blood Diamonds
;
Hotel Rwanda
,... After each screening, we invite the audience to further engage with topics covered in the film/documentary.
Discussion Groups / Live Chat
Our goal is to allow people to learn from each other's experience. Our Discussion and Reading groups provide a great opportunity to connect people together and help them build relationships and a sense of community. Whether it is online or around a table, we enjoy those moments when we can discuss about specific news topics, books and movies we recommend, and have meaningful conversations. It is a great way to interact with each other, through thoughtful and insightful questions and comments.
We also invite guests/experts to our group chat for a Q&A session or interview. For our online rendezvous, we use a Live Chat (Password protected) only accessible during the Discussion/Reading session. Discussion Groups and Book Chats are announced in our Newsletter (you can subscribe
here
).
More on our previous
Online Discussions
and
Reading Groups
.