A Short History of Sudan
On this page, you will find content we have found to contain useful, revelant and interesting information: news, links, books and Twitter accounts. If you think an important resource is missing, please let us know.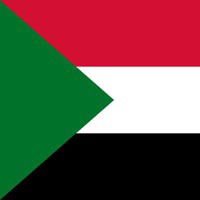 Sudan is home to the Meroe pyramids, ancient structure up to 4,600 years old. There are more pyramids in Sudan (about 200) than there are in the whole of Egypt. Sudan became independent in 1956, and the country was the largest African country prior to the secession of the south in 2011. On 30 June 1989, Colonel Omar al-Bashir led a military coup and later became a one-party state. In February 2003, the war in Darfur (a region in western Sudan) started and the Government of Sudan carried out genocide against Darfur civilians: 480,000 people have been killed, and over 2.6 million people are displaced. Since then the economic and humanitarian situations have deteriorated, human rights violations and restrictions of freedom of expression have also increased.
Latest News about Sudan / South Sudan on the MagkaSama Project
Read more news on
Sudan
and
South Sudan
.
If you read the news round-up from our latest Newsletter, the situation in Sudan is getting tense as the people are peacefully rallying across the country for several months now, but it may not last. We are used to see men in the crowd but women are also taking their part in the protests. #MustRead @Radiodabanga: 'Tasqut bas!' The No to Women's Oppression Initiative...
Last week in this post (in French) we mentioned Orange Day, the International Day for the Elimination of Violence against Women and the first day of the #16Days of Activism against Gender-based Violence. Saturday we rallied in Paris and we met with members of the FIDH, Femen and other activists. It was a cold afternoon but it was crowded and many people (women, men, children)...
We are proud to be a partner of The Heart of Nuba (visit our page dedicated to the movie here) and we regularly keep you updated with their latest news and actions as we know many of you are interested in the work of Dr Tom Catena and support him. In their November 2018 Bulletin, The Heart of Nuba provides great news on the film and social impact campaign. Last month they...
As the United States and the European Union have been hard at work rebuilding ties with Sudan, the situation in Darfur is not getting any better, far from it. A year ago, we reported in this post an article by Sudan expert Eric Reeves about the failed UN/African Union "hybrid" Mission in Darfur (UNAMID) he called the greatest failure in the history of UN peacekeeping and...
Sudan expert Eric Reeves has been writing about Sudan and Darfur for almost two decades. Working full-time as a Sudan researcher and analyst, Reeves has also testified several times before the Congress. When the MagkaSama Project was created in 2003 (read more here) to alert to the unfolding genocide in Darfur, Reeves was already calling the conflict a genocide. We continue to...
More News related to Sudan / Darfur / Nuba Mountains and South Sudan
Selected Internet resources about Sudan news:
In Focus
Remarkable people in Sudan:
Dr. Tom Catena
.
Dr. Tom Catena, Mother of Mercy Hospital, Nuba Mountains - Sudan
Visit
our page dedicated to the film
Dr. Tom Catena's patients come to him from hundreds of miles away on foot, in carts, or often cradled in their mother's arms. Welcome to the Nuba Mountains of Sudan, an area of the world so void of humanitarian and media attention that years of war go ignored, and cries for help go largely unheard. Here, this lone American surgeon tends with equal compassion to patients ranging from malnutrition and leprosy, to grave wounds inflicted by the indiscriminate bombings ordered by their own president, Omar al-Bashir. When a government can attack defenseless men, women and children with supersonic bombers, and it doesn't make anyone's newswire, something is terribly awry...
More information here
Learn more about the Situation and the Conflicts in Sudan / South Sudan
Video to watch and share, organizations and campaigns to support.
Six Years of War in the Nuba Mountains
NubaReports
This week, on June 6 [2017], marks the sixth anniversary to the conflict in the Nuba Mountains. A ceasefire announcement in January has provided much-needed respite for the civilians in the conflict zones, but it is unclear whether this will continue past November. To commemorate the anniversary, Nuba Reports releases an overview film outlining some of the main issues affecting civilians vis-à-vis the conflict and hopes for the future...
LEARN MORE
This is Darfur: Guisma's Story
iACT
Guisma's eyes have seen what no child should ever see. Her home was destroyed. Brothers and sisters died. Most of her life lived as a refugee, with little hope for a safe and nurturing future — but Guisma still smiles. Guisma is Darfur, bombed and oppressed — but still beautiful and resilient. You have the opportunity to participate in creating a better future for her and all of Darfur. Peace, Protection, and Justice for Guisma and all innocent civilians in Darfur is the goal...
LEARN MORE
Messages for Sudan / South Sudan
You can share your experience or show your support
by sending a Message
. View more
on this page
.
Book recommendations
List of books from our previous reading groups, suggested by our Members and/or submitted by readers of the MagkaSama Project. We welcome your suggestions (
here
) for books to be added to this list!